Advertisements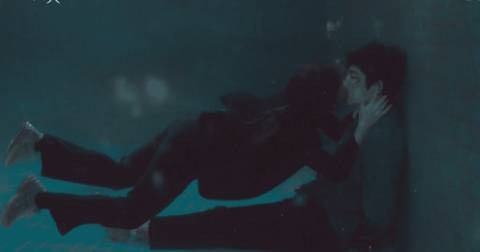 'Flower of Evil' Episode 1 dives right into the lives of Ji-won (Moon Chae-won) and Hee-seong (Lee Joon-gi) — a wife who is a cop and husband who apparently has a "dirty past" according to his parents. The opening shot is of Hee-seong almost drowning before Ji-won jumps in to save him. From the get-go, it is clear that Hee-seong is hiding something huge from his wife. Then, the scene dissolves and what we see is a husband and wife who are in love and share an intimate moment. It is Hae-seong's birthday and Ji-won has planned a family dinner that she seems extremely excited about but neither her daughter or her husband is.
We learn why soon enough as we see Hae-seong's parents who are invited to the dinner act extremely cold towards Ji-won's family. The reason? There is a secret that Hee-seong, his mother, and father have which is something that has been keeping them safe all this while. Each of them has power over the other and the reason why they can't cross each other seems to be rooted in this secret.
It is also this secret that seems to have helped him start his life with Ji-won and his daughter. He seems to be living a lie, using his wife's background as a cop to stay under the radar. However, why he would need to do something like that or if he really is just using Ji-won is what will be revealed over episodes in the show.
We also see Ji-won's journalist friend chance upon a huge truth and it is connected to a serial murder case that he has been investigating. A witness states that he saw Hyun-su bury the bodies and this reporter is on the way to investigate this but decides to first visit Ji-won's husband's workshop and that is where he meets the man he has come to know as Hyun-su. It is actually Hee-seong working at his desk, and he is also shocked to see the journalist. The two recognize each other immediately and that is the first time we see the psychotic side to Hee-seong. Through their conversation, we also learn about Hyun-su.
Do Hyun-su disappeared 18 years ago from his town on the same day as a foreman in the town was murdered. This man also seems to be the source for many rumors that paint him as a scary and dangerous man. So when the murder weapon was found in his bag, everyone confirmed that he was the man behind the murder. However, Hyun-su skipped town and since then he has been on the run. The case has also been unsolved and Hyun-su continues to be the person of interest in the case.
Now that Hee-seong who actually seems to be Hyun-su realizes that the journalist is a friend of Ji-won's, there is no other option but to keep him under his control so that he doesn't reveal everything to Ji-won. Hee-seong decides that the best way to go about this is by kidnapping the journalist and keeping him imprisoned in his workshop's basement.
In the meantime, Ji-won investigates different cases and closes them as a cop. The first case is of a husband who cheats his wife and as a result, is falsely accused by his son for wanting to kill him. The parallels drawn between this husband and Ji-won's are stark and in the future, we can expect more such parallels.
'Flower of Evil' will air on tvN on Wednesday and Thursday at 10.50 pm KST and can be streamed on Viki Global.
©Meaww